American Fiber Cement is a high-density fiber cement manufactured using the time proven Hatschek method. American Fiber Cement is available in over 40 colors across five distinct product lines. We maintain inventory of select colors in our warehouses in California and Pennsylvania.
Standard panels sizes are 4' x 8' and 4' x 10'. All fabrication is performed in our US warehouses by trained operators.
Patina
AFC Patina board is a strong, weather-proof cladding board characterized by its muted, matte finish. During manufacturing, the through-colored board receives a unique surface treatment which makes it powerfully resistant towards water staining and dirt, ensuring a long-lasting and durable facade.

Fiber Cement Installation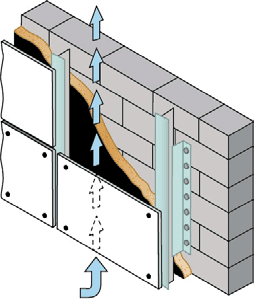 American Fiber Cement is installed as a ventilated rainscreen. We recommend the use of
Delta-Fassade S
for your AWB as it is black and that looks better than blue or green between the panels.